Three Valley Gap, BC - A Canadian Holiday in the Rocky Mountains
---
Three Valley Gap, BC is a small resort town near Revelstoke that commemorates the local mining and railway heritage of the Monashee Mountain region. The name is derived from the confluence of three valleys to the east, west & south. This photo was taken from Rutherford Beach, looking across the Lake, towards the resort town that's tucked between the narrow, steep-walled valley.

View Three Valley Gap in a larger map
Located 20 kilometers west of Revelstoke (150 kilometers west of Golden, BC), this small resort town is situated on the picturesque shores of Three Valley Lake, along the Eagle River. Actually, there's no town site per se but rather a full-service resort that offers dining, lodging, helicopter rides and tours of a recreated pioneer town. Also located here is the only working railway roundhouse in Canada.
There's not a lot of things to do on a vacation to Three Valley Gap but most people stop for a bite to eat, visit the private museum, stretch their legs or go for a quick paddle on the lake.
Travel to Three Valley Gap
The shores of the lake make for a scenic, afternoon pit stop since there are not many outdoor adventures in the area. On this day trip from Revelstoke, we had a blast kayaking across the water. Most days, the mountain valley acts as a wind tunnel making for a strenuous outing but that day, the sun was bright and the air was calm.
To the east of here, there's great hiking in Glacier National Park and the Rogers Pass. Back-country exploring around Three Valley Gap is good but services are limited due to the low population. The local resort is only open during the summer and offers an alternative accommodation to those in Revelstoke; however, you won't have the same selection of services and amenities as offered in town.




Camping is not permitted at this rest stop and you'll need a 4x4 truck with good clearance to get to the nearest campground in Mount Griffin Provincial Park.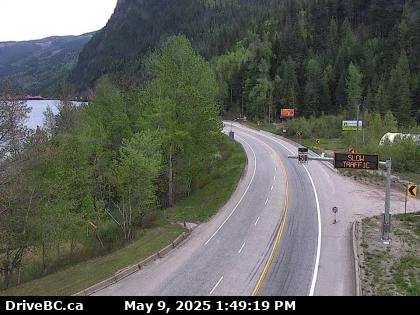 Source: Drive BC - Current Driving Conditions, Three Valley Gap, BC.
As you leave Revelstoke, the Trans Canada Highway #1 follows the Canadian Pacific Railway (CPR) through the mountain pass. Both rail & road squeeze through this narrow corridor. Even though a rail tour through the Canadian Rockies is scenic & romantic, a road trip allows visitors to stop and enjoy the landscape from roadside viewpoints like this one at Rutherford Beach near Three Valley Gap, BC. Check out other things to do in BC. © Copyright 2010
Bookmark/Search this post with
Get more insider tips on Canadian Adventures at Scenic Travel Canada.